Suspended Until Further Notice
7:00am – 2pm
Potranco Automotive Parking area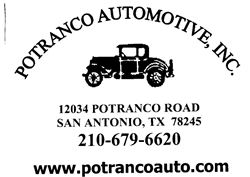 Spaces are $25 ($15 for spot & refundable $10 deposit if all trash from your spot is removed) Spots are first come/ first serve.  Please have the exact cash amount for your space as change is not available.
No food, No drinks, and No  live animals can be sold.
DO NOT CONTACT POTRANCO AUTOMOTIVE FOR INFO ON THE FLEA MARKET.  You can contact us through email @ board@coolcrestpoa.org 
Thanks Rudy!! All of us appreciate the generous use of your parking area for our flea markets !!!!!